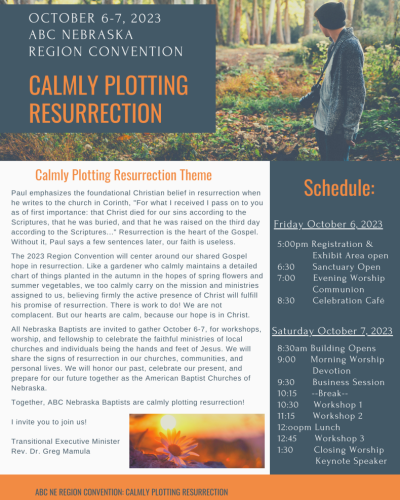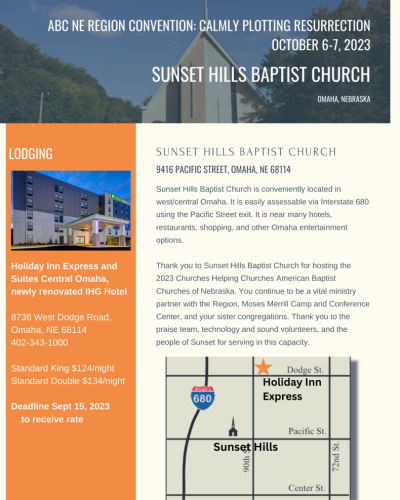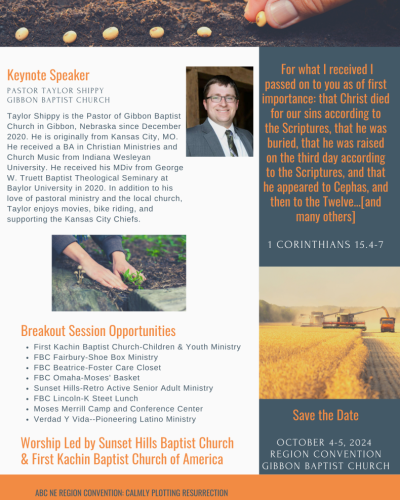 The 2023 Region Convention will center around our shared Gospel hope in resurrection. Like a gardener who calmly maintains a detailed chart of things planted in the autumn in the hopes of spring flowers and summer vegetables, we too calmly carry on the mission and ministries assigned to us, believing firmly the active presence of Christ will fulfill his promise of resurrection. There is work to do! We are not complacent. But our hearts are calm, because our hope is in Christ.
All Nebraska Baptists are invited to gather October 6-7, for workshops, worship, and fellowship to celebrate the faithful ministries of local churches and individuals being the hands and feet of Jesus. We will share the signs of resurrection in our churches, communities, and personal lives. We will honor our past, celebrate our present, and prepare for our future together as the American Baptist Churches of Nebraska.
Together, ABC Nebraska Baptists are calmly plotting resurrection!
Visit our 2023 Region Convention Page to learn more, download material, see the schedule, and register.