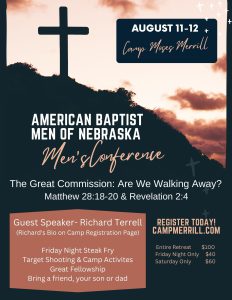 Register for the ABMen's Conference http://campmerrill.com/home/events/ab-mens-conference/
1:00 9 Hole Golf Outing – Schuyler, NE Contact Glen Dappen at
(402)-890-1418
1:00 Recreation of your choice
5:00 Registration/Payment of Dues and Contributions –
Weaver Hall
6:00 Steak Fry – Weaver Hall
7:00 Group Singing and devotions -Chapel
8:00 Ice Cream Sundae/Camp Fire – Conference Center
Saturday, August 12
7:30 Devotions – Amphitheater- Glen Dappen
8:00 Breakfast – Weaver Hall
9:00 Richard Terrill "The Great Commission, Are We
Walking Away?" – Conference Center
9:45 AB Men Business Meeting – Conference Center
10:00 Recreation of your choice
12:00 Lunch – Weaver Hall
12:45 Recreation of your choice
Letter of Invitation from President Brad Pope
I urge each of you to consider attending this year's ABMen Conference at Moses Merrill Camp and Conference Center August 11-12 Attached is a schedule of activities. We kick off the festivities with a golf tournament in Schuyler or any other camp activities you might choose (other than the zip line, there will be designated times for that on Saturday) at 1pm Friday August 11th with check in at camp beginning at 5pm. Remember, there is a steak fry Friday night for dinner!
This year we are privileged to have Richard Terrill speak to us Saturday morning on the topic "The Great Commission – Are We Walking away?" This, a short business meeting, and by 10:30am you will be free to partake in the activities of your choice.
We are approaching this year's conference a bit differently in that we are urging men to take time to use the camp facilities to their fullest. A partial list of things you can do include, hiking, archery, BB gun target shooting, bring your own pistol for target shooting, horse shoes, Zip Line!, star gazing, Frisbee golf, hay rack rides, bring your swimming suit for the pool, horse shoes, great food, singing and fellowship. Cost for the conference is $40 if you are attending Friday only, $60 if you are attending Saturday only, or $100 for both days. Register online at the Camp web site. There are scholarships available so don't let cost stop you from attending! Also, Senior Pastors are free! I hope to see you at Camp!
Brad Pope,
President ABMen of Nebraska
Guest Speaker- Richard Terrell
Richard is Professor of Art, Emeritus, at Doane University, Crete, Nebraska, where he taught studio arts and the History of Art for 40 years. In addition, he taught a Philosophy course in Worldviews and has studied Church History, Christian Apologetics, and New Testament at Trinity Evangelical Divinity School, Deerfield, Illinois. He is a licensed lay minister in ABCUSA and has served four Lincoln area churches as interim pastor/pulpit minister. He has participated in a variety of public forums and panels discussing issues of religion and culture and studied the implications and influences of ministries on the church's mission as declared by Jesus Christ in the Great Commission. The question is whether the Christian vision suffers from trendy calls for cooperative ministry in the interests of peaceful co-existence or even synthesis with other religious traditions. "Do we have the courage required to uphold the exclusive claims of Jesus?" Special attention will be given to Christian-Muslim inter-actions. He is a member of Second Baptist Church, Lincoln.