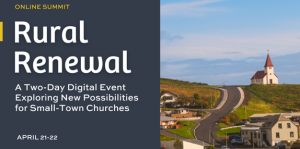 Rural Renewal Fresh Expression Training
April 21-22, 2023
Many Jesus' followers across rural regions are uncovering exciting possibilities as they explore creative and practical approaches to loving their neighbors.
Rural Revival Summit is a two-day digital event that will introduce you to other ministry leaders serving in small-town and rural contexts to provide examples and inspiration for being the Church and addressing the needs unique to your community.
Join us this April at the Rural Renewal Summit where you will have an opportunity to:
– Meet other small-town church leaders who understand the struggles you are facing
– Hear stories from real-life practitioners who are forming new and different expressions of church that uniquely connect with their rural settings
– Explore practical approaches to church leadership and discipleship developed by fellow rural ministry leaders
ABC Nebraska members get a discount!
Use promo code: ABCNE15 at checkout to get 15% off all Fresh Expression training and resources.
To Register visit: https://freshexpressions.com/ruralrevivalsummit?goal=0_eb9d1fd14e-c05aa11f89-1206087981&mc_cid=c05aa11f89&mc_eid=aefce2519b