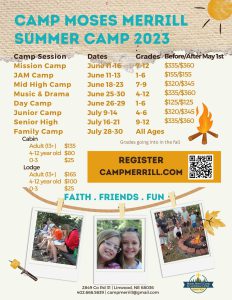 The Moses Merrill Camp and Conference Center is preparing for another great summer!
Youth Camp at Moses Merrill
Anyone who went to camp as a kid has good memories of campfires, sunny afternoon swims and great friends. And now more then ever kids need time away at camp to just be kids! For over 70 years Camp Moses Merrill has been welcoming summer campers to a place where they can grow in their faith, explore God's beautiful outdoors and find friends, old and new.
Faith
Camp has a way of helping campers learn about God. Whether its singing around the campfire or talking to a camp leader, campers have so many amazing opportunities to grow in their faith.
Fun
Summer camp is fun! Swimming, hiking, singing, Ga-Ga Ball, CTF… The list of things to do is endless!
Friends
Seeing old friends and making new friends is one of the best things about camp! With a safe and friendly environment campers have wonderful opportunities to spend time with friends. The memories they make will last a lifetime.